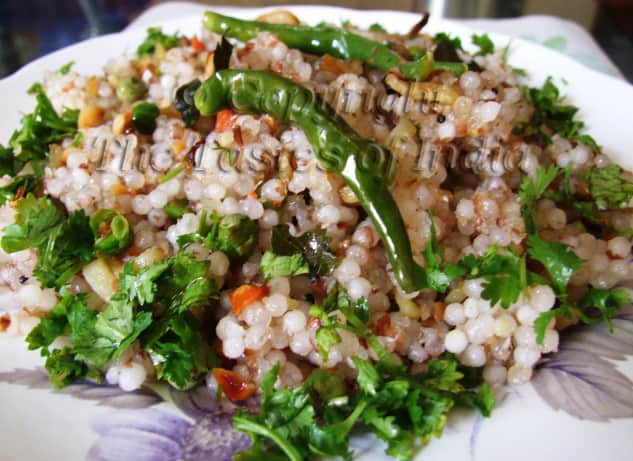 Sabudane ki Khichadi is fast to cook and is nutritionaly good for health. Sago(Sabudana) can also be eaten on fast days.
Ingredients (Serves 4)
2 cups: sago seeds or sabudana(preferably big ones)
1/2 cup: Peanuts
1 Large: Potato
1/2 cup green peas
1-2 carrots cut into small and thin pieces
5-6: Green chillies
1 teaspoon: Cumin seeds (Jeera) or, Mustard seeds
3 tablespoon: Ghee or, Oil
a few curry leaves
2 tbsp coriander leaves (chopped)
Salt to taste
Method:
Immerse the sago (Sabudana) in enough water for a couple of minutes and then drain the water completely.
Cover the sago and let it remain for the whole night or, for at least 8 hours.
Make potato fingers by cutting the potatoes in a long way.
Heat ghee in a deep bottomed pan over medium heat. Add mustard seeds. Once they start spluttering add 3-4 slit green chillies, curry leaves, the diced potato, carrots and green peas and cover and cook till potatoes are tender.
Uncover and stir until the potatoes are slightly brown in color.
Keep in mind that the vegetables don't get mashed.
Mix soaked sabudana with peanut powder and salt.
Cook the mixture over medium heat and stir for about 10 minutes, until sago is crisp.
Garnish with coriander leaves and serve.
Tips :
While draining the Sabudana make sure that there is no water remaining. You can sprinkle some water after draining. Cover and leave overnight. This results in perfectly fluffed sago.
For best results, roast the peanuts and grind coarsely. Do not leave the peanuts in big chunks, make a fine powder with a few coarse pieces.
Sabudana khichdi can be served with curd.
If Sabudana khichdi is being used for fasting, do not use the normal cooking salt, mustard seeds and oil. In India, instead of the normal salt, Sendha Namak (fasting salt) is used. You can use Ghee instead of Oil, but completely prevent using jeera or, mustard seeds.
You can use onion as well in case you wish. You can add it into the potatoes. Rest of the procedure will follow as normal.