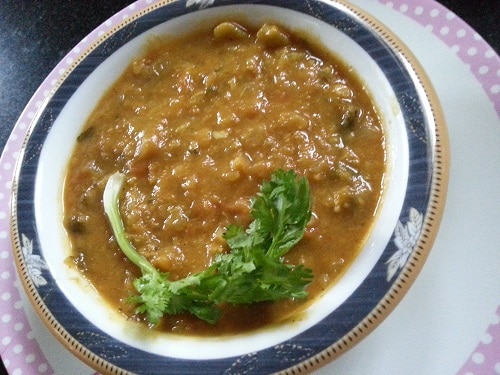 Lauki chana dal is a healthy main course item consist of lauki and chana dal. So if you are bored of regular dal, you can try this recipe. It goes well with roti paratha or jeera rice.
Ingredients:-
Chana dal-1/2 cup
Lauki chopped-1 small
Oil-1 tablespoon
Cumin seeds-1/4 teaspoon
Onion -1 medium (chopped)
Tomatoes-3 midium
Garlic -1 tbsp (minced)
Ginger-1tbsp (minced)
Red chilli powder-1 teaspoon
Tumeric-1/4 teaspoon
Garam masala powder-1 teaspoon
Hing/Asafoetida -¼ tsp
KasTuri Methi-1 tbsp Dried Fenugreek Leaves
Salt to taste
Method:-
Boil water in a pressure cooker. Add dal, turmeric, salt and lauki to the water, close lid and cook  till done.
Once done mash the mixture lightly with back of a rounded spoon and mix well.Set aside.
If the dal seems too thick, you can add extra boiled water as per your requirement.
For Tarka
Heat oil in a pan.Add cumin seeds and asafoetida powder and let the seeds splutter.Add whole chillies and ginger garlic paste and saute.
Now add chopped onion and saute till golden brown ,add tomatoes ,chilli powder  and fry for 5 minutes.
Now add some garam masala and cook until oil separates.
Add the dal mixture to this masala and mix.
Add methi leaves and let it simmer for 3-4 minutes .
Garnish with coriander leaves.
It goes very well with hot and crispy chapatties.