Latest Post
by Puja on 8 December 2013
Ingredients:-
Chicken – 250 gms
Yogurt – less than 1/2 cup
Turmeric powder – 1/4 tsp
Red chili powder – 1/2 tsp
Coriander powder – 1/4 tsp
Oil for deep frying
Salt as per taste
Ingredients to Marinate:-
Turmeric powder – 1/2 tsp
Red Chili powder – 1 tsp (or as per the taste)
Black pepper powder – 1/4 tsp
Ginger garlic paste – 1 tsp
Lemon juice – 1/2 tbsp
Egg – 1
Cornflour – 2 tbs
Rice flour – 1/2 tbspSalt as per taste
For Tempering :-
Cooking oil – 1/2 tbsp
Curry leaves – 1 sprg
Garlic – 3 cloves, minced (optional)
Ginger – 1/2 tbsp minced
Green chilies – 5 slit length wise
Method :-
First of all marinate chicken pieces in the ingredients and keep it aside for about 1 hour.
Now take a bowl mix yogurt, salt to taste, turmeric powder, red chili powder and coriander powder and keep it aside.
Heat oil for deep frying.
Once the oil is hot, add a few chicken pieces into the oil and cook on medium flame. Once the chicken is almost cooked, increase flame and deep fry the chicken pieces till golden brown in color.
Remove chicken pieces onto absorbent paper and keep it aside.
Repeat the same process with the rest of the chicken pieces.
Heat a cooking vessel, add a tbsp of oil. Add garlic and ginger and saute for a few seconds.
Add curry leaves and green chilies. Saute for a few seconds.
Add the deep fried chicken and toss well and cook for 2 minutes.
Add the yogurt mixture and cook on low to medium flame, mixing the contents well.
Toss the chicken till the yogurt dries up and the chicken absorbs the yogurt mix.
Remove onto a serving plate. Garnish with coriander leaves.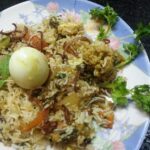 Egg and vegetable biryani is a custom biryani that i love making at home. Primarily because i wanted to avoid chicken. It has the goodness of vegetables and egg, because of which kids will like it a lot. Ingredients:- Basmati Rice – 500 gms Oil – 200 gms Egg – 6 (boiled and slit in the middle) Biryani masala – 5 tbsp Salt – as per needed Onion – 200 gms (thinly sliced) Onion to […]